A Personal Tale of Hurricane Iniki

STILL ALIVE AND WELL

MARCH 2002 - update on El Nino, Kauai and Pacific Conditions
September 10, 1992
This was a fairly routine Thursday on the north shore of Kauai as far as I could tell. In the morning I glanced at the weather section from the Wednesday Honolulu Advertiser and noticed a downgraded Tropical Storm "Iniki" south of the islands, and didn't think much of it. Oddly, there was a Hurricane "Orlene" east of the Big Island that seemed more impressive. As most hurricanes drift north and only affect Hawaii as showers picked up by the tradewinds, the highest cost usually considered is lost outdoor recreation time.
I went home from work at the Princeville Makai Golf Course at about 7:30 PM that evening, and my biggest concerns were a couple of weekend golf tournaments, and the rescheduling of employees possibly involved. After dinner I sat down to look at some personal papers for a while with the intention of going to sleep early. At about 8:45 PM my wife Susan got a phonecall from her friend Patrina who was concerned about the hurricane currently threatening Kauai. This came as a total surprise, and my first thought was "Orlene", but that storm was at least 1,200 miles away. I immediately tuned in the weather report on television to learn that "Iniki" was now a hurricane and had made a northerly turn toward Kauai. In addition, the islands of Kauai and Niihau were under a hurricane warning that had been in effect for several hours. Having tracked a lot of hurricanes in the Gulf of Mexico, I knew the difference between a "watch" and a "warning". As unlikely as it seemed, we were suddenly in a very serious situation.
Susan and I talked briefly, and took an inventory of our emergency supplies. I called several people to see if they were hearing what we were. Basically nobody knew very much yet. I heard later that friends and relatives on the mainland had more information ahead of time than we did. We had a box of hurricane supplies, but I could not sit still, so I decided to do some shopping. On the way to the store, I became aware of a knot developing in my stomach that was to last for some time.
The grocery store in Princeville ordinarily stays open untill 11:00 PM, and there are seldom many shoppers after dark. That was not the case this night as the aisles were filled with nervous residents buying candles, batteries, water and canned food. There was a stange mood in the store as only now, while we shopped and talked, were we becoming aware of the potential of "Iniki". Several tourists were present and seemed amused at the excitement. They were on vacation and after all this was paradise wasn't it, what could go wrong? As I drove home through the night, I felt bad for these folks, especially those who had just come from the airport still wearing leis. One thing was certain though, this years Hawaiian holiday was going to be unforgettable.
When I got back, it was Susan's turn to go to the store and get what I had forgotten. My trip had only yielded a bottle of Absolut Vodka. By now it was after 11:00 PM, the kids were asleep, and once again I tuned in the weather report. The storm was intensifying and was now a category 3 hurricane. It was still heading directly at us, and had the capacity for tremendous damage. As the buoy reports and warnings droned on, I started thinking that very little of what had seemed important earlier in the day was going to matter now. In spite of my disbelief that this threat could develop so quickly, it was growing obvious that we were about to experience abrupt change.
September 11, 1992
I spent most of the night tossing and turning in an unsuccessful attempt at sleep. I conducted periodic reality checks by turning on weather reports to see if "Iniki" was still out there. The answer was always yes and getting worse. By 3:00 AM, the hurricane was upgraded to a category 4, and conditions were indicating further strengthening was likely. After trying to digest this information, I finally fell asleep just before the wail of the civil defense sirens ended any hopes that this might be a normal Friday. It was 5:15 AM, the lowland coastal evacuations were underway, and the weather forecast called for 100% chance of disaster. What a thing to wake up to. All that mattered now was figuring out the best way to survive the next 24 hours. Whether or not we were going to get hit was a foregone conclusion.
The isolation of Kauai had never seemed more profound than that morning. In a similar situation on the mainland in 1988, we had driven for a few hours and were out of Hurricane Gilbert's path. Being on an island however, the options were limited. We would either report to a shelter or ride it out at home. The radio announced that the Princeville Hotel was the nearest shelter so I went to check it out. What I found was a situation that appeared out of control. The lowland coastal evacuees had already 90% filled the designated shelter area, and it was still early. Nobody working there seemed to know if there was going to be more space made available or not. A very agitated man in a suit with a walkie talkie was pointed out to me as the leader of the evacuations. I tried to ask him some questions, but he seemed too stressed out and overwhelmed to reply coherently. In my opinion, that place was completely up for grabs, and the situation was already scary enough. I decided to look for another shelter.
I suspected that the nearby Prince Golf and Country Club would be empty. I also knew that it had thick concrete walls and was likely to withstand anything. I drove over and sure enough the huge clubhouse complex was abandoned and unlocked. Susan, the three children and I could definitely stay alive in that place. Feeling somewhat relieved that we had somewhere to go, I returned home.
"Inikis" arrival was forecast for late afternoon, and everyone on the island was making hurried preparations. By midmorning, weather reconnaissance flights were reporting regularly, and there were ominous satellite photographs of a now category 5 hurricane on television. There was a brief report of an easterly turn toward Oahu, but like a heatseeking missile, the storm corrected its course back toward Kauai. It was difficult not to take this situation personally. After all, this was a huge ocean and we were a comparitively small island, but evidently this was going to be our day.
Inside the house, we packed some possessions, taped the windows and organized our water candles and food. The phone rang all morning as our friends called and we wished each other luck, but I avoided saying goodbye. Since we would not have phones for a while, Susan and I both made some long distance calls invoking prayers for us and the island. By now the national news had picked up our story so it was hard to ask friends and relatives not to worry. Telling people we would be OK in the hall under mattresses does not exactly have a calming effect.
All morning the air had been dead calm and the sky overcast. The high humidity and absence of breeze made it seem particularly oppressive. As the countdown continued into late morning it appeared that all of our neighbors were outside checking each others preparations and talking hurricane talk. I was already feeling very tired from the tension and mugginess while we ate lunch and finalized our plans. We would see how the house fared early in the storm, and run for the Prince clubhouse if necessary. There didn't seem to be much more we could do so we went out into the yard. The sky was getting darker, and it was no longer still. The first gusts from the east had begun. Apparently, our uninvited guest was arriving early.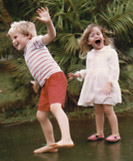 Initially, the winds were euphoric as the stifling heat dissapated. We laughed with the neighbors and took pictures of the kids playing in the yard. Even though we had only known about "Iniki" for about 15 hours, it had seemed like much longer, and it came as a relief that something was happening. Very quickly the wind increased to gale force, and we retreated inside the house. The phones and electricity were already dead. It was definitely showtime. Our children Walter 7, Andrew 5, and Molly 3 dutifully picked out their "emergency toys" and took their places in the hall. Suddenly, a violent gust slammed into the house and I saw shingles fly into a guava grove in our backyard. They were off of our house and decision time was near, stay or leave. A few minutes later another gust rocked the whole structure on its pier beams. It was time to run, the house was already coming apart.
We took our emergency stores and got in the car to make a run for safety. Surrounded by rapidly intensifying hurricane conditions, we had to make it about two miles to the Prince clubhouse and those thick walls. We almost didn't get out of Princeville. Somebody had lowered the security gates keeping people from leaving the resort. Fortunately a lone red truck in front of us blasted through the gate at about 30 mph, and headed west toward Hanalei. We were free to escape Princeville. We must have been the last car to get through on the Kuhio highway as treelimbs and debris were already piling up everywhere. Two or three times we had to get out and clear the road, and the trip was slowed to a crawl. The thought of being trapped on the highway in a category 5 hurricane was terrifying, and I started thinking maybe we had waited too long. Fortunately, the road was clearer farther along, and we arrived safely in the parking lot. By now the rain was coming in straight horizontal sheets and the winds of "Iniki" were roaring across Kauai. Susan, Walter and Andrew sprinted the last 50 yards to the building. I ran behind carrying Molly like a fullback cradling a football yelling for everyone literally to run for their lives. We were completely soaked, but we made it. I knew now that survival was a good bet, and my earlier case of nerves had been replaced by a pure adrenalin rush.
The Prince clubhouse is an impressive structure featuring a lobby full of windows that ordinarily afford a spectacular view. These windows are made of hurricane proof glass, and this would be a relatively safe place to see what was going on outside. The building had been abandoned in the panic though, and all the doors and windows had been closed shut. I was worried that the suction from the wind might cause an implosion to occur. While the family set up shop in a sheltered meeting room, I tried to secure the building as much as possible, but I couldn't get all the sliding glass doors open. In light of the destruction caused by these sealed doors, I should have broken the glass when I had a chance.
Susan and the kids stayed downstairs in the offices playing games and reading books as the afternoon wore on. Still high on adrenalin, I moved around the building monitoring damage and taking pictures of the destructive performance going on outside. A lot of water was leaking in and at about 3:00 PM the doors at the main entrance blew in with a crash. The hurricane was now inside. I propped open a door on the west side , and it sounded and felt like a wind tunnel, but at least the pressure was equal on the side of the building where my family was. Even though there was no doubt that "Iniki" was intense and causing damage, I felt fairly optimistic as the eye approached. I also had my fingers crossed because the backside of a storm can be a lot more dangerous than the front.
The eye of "Iniki" passed over the north shore at about 4:50pm. We were on the eastern side of it and while we did not experience total calm; the sun did shine briefly, and my ears seemed to pop from the low pressure. After this brief respite, the winds abruptly changed to the west and all hell broke loose. It now looked like the hurricane had been accelerated to fast-forward. The tile on the roof of the clubhouse started tearing off in large chunks. A couple of these pieces flying at over 160 miles per hour blasted through the pressurized windows in the lobby. I was in the room during one of these explosions and had to hit the deck as the entire area was sprayed with hurricane proof glass. Fortunately, I didn't get cut badly, but the concusive blast left me on all fours in a pile of glass dazed, with blood dripping onto the floor in front of my face. Scalp wounds are pretty messy, but I was OK.
This part of the storm was extemely violent, and the destruction mounted all around us. Trees were coming down everywhere, large metal conduits weighing a ton were blowing around the golf course like paper cups, and every power pole in sight was on the ground. The noise was unbelievable; shattering glass, twisting metal, flying debris impacting, and of course the piercing howl of the wind. At times the gusts would reach frenzied crescendos where it felt like the whole building would explode. Sue and the kids spent this most turbulent time under desks in the interior offices eating chips and ding dongs. With the exception of an occasional worried expression or question about when it would end, the children seemed fairly calm. While we were still safe, the sounds of the disaster in progress were unnerving to say the least.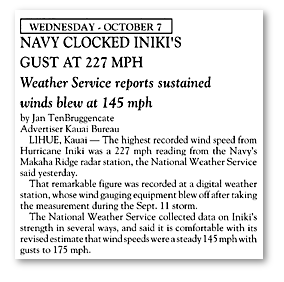 My initial concerns about problems caused by the doors not being cracked were realized at about 5:30 PM. On the east wing of the building there was a large banquet room set up for a wedding reception. The suction in the room was so great that the doors which open out were absolutely immovable. All twenty or so large hurricane windows were bowing dangerously inward. The low pressure in that room was lethal. Finally, during a peak gust, perhaps 200 miles per hour, the entire room imploded. Every window, wall and door inside and out disentegrated at once. The sound was like some muffled underwater explosion that shook the very foundation of the complex. For about five seconds the air inside was filled with tables, chairs, doors, soup turines, sheetrock, glass, etc., and then the whole mess blew toward the lee side, much of it landing in the parking lot below. It was an absolutely amazing scene. At this point I realized that this kind of devastation must be going on all over the island.
Obviously, there were going to be tremendous losses to be dealt with. The storm was one thing, but until now I had never even considered the aftermath. I rejoined my family, and we huddled together in the pro shop. About an hour later the bizarre rampage ended.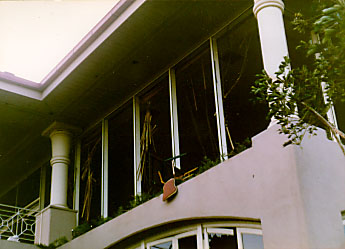 All of these windows at the Prince Golf And Country Club Banquet Room imploded simultaneously at 5:30 PM September 11, 1992. This is the reason it is imperative to leave doors and windows cracked in a hurricane or tornado. Five minutes more preparation here would have saved possibly millions of dollars in damage. When facing a disaster,
DON'T PANIC!
By 6:30 PM the most destructive hurricane to hit Hawaii in recorded history was over. "Iniki" was gone. I ventured outside to take pictures and look at the carnage. There was a spectacular full moonrise in progress, but nothing else was right. What had been the most beautiful place I had ever seen was right now very difficult to look at. The muggy stillness was returning with the darkness, and clouds of mosquitos swarmed everywhere. Starting to feel numb, I went back inside and we all collapsed into sleep by 8:00 PM.
At about 10:30 PM we were awakened by voices and flashlights. It was the Kauai police checking out the building. With them were two vacationers shaken by the storm and the chaos at the hotel, which had sustained heavy damage. These guys had tried to make a run for the airport in Lihue, 30 miles away. The roads were impassable and they had only advanced about two miles when they tried to take their rentajeep off road. The police found them stuck in the mud and escorted them to where we were trapped by debris in the Prince Club house. As these were the first people we had encountered since before the storm, we were anxious for news. Of the four officers there, only one spoke and he would say that basically the island was wiped out. The others were a picture of shock and exhaustion. One sat alone on a couch in the dark with his head in his hands. The condition these guys were in said a lot about what it must have been like out there. They only stayed for a while, and then left to look for more survivors. I offered the two unsuccessful escapees a couch to sleep on, and we stayed up talking until midnight. "Iniki" had turned their golfing trip into the "vacation from hell". All they wanted now was out. As I recall the cruel scene revealed by the sunrise, I can't say that I blamed them.
September 12, 1992
Between the buzzing of mosquitos and the intense heat, for me sleep was out of the question. Wanting to see more of what "Iniki" had done, I decided to go for a hike at about 2:00 AM. It was a cloudless night and the full moon vividly illuminated the landscape. There were inumerable trees completely uprooted and every plant appeared defoliated. The moonlight played tricks with the piles of unidentifiable debris, and at times it looked like stacks of bodies and other weird shapes. This scene was accompanied by the roar of flooded streams crashing through the gorges. The whole place had the feel of a fresh kill about it. After several miles of trying to comprehend what had happened, I went back to the pro shop and slept with the family for a couple of hours.
Morning was hot and still. The only sounds were a few cars somehow crawling through a narrow space in the debris on the highway. At about 8:00 AM, a few grim looking Princeville executives began showing up to inspect the damage. Susan took the kids, and caught a ride with someone heading toward our house. I stayed and greeted the somber arrivals and watched a number of motorists changing flat tires. There were nails, broken glass, and tile fragments everywhere. I had to change one of our tires before I even got out of the parking lot. I finally got started for home at about 9:30 AM. The first things I saw when I turned into Princeville were two military helicopters on the ground with stretcher bearers running toward one of them carrying an injured victim. This scene from M.A.S.H. further dramatized the situation although at this point it wasn't necessary. This magnificent residential area looked like a war zone. There were roofs in the road, flattened automobiles, trees sticking into houses, and virtually nothing was left undamaged. The lush vegetation that distinguishes this part of Hawaii had been ripped bare by the wind, and mangled fronds hung limp from the cocopalms. I am grateful for the emotional protection afforded a person in a state of shock. This was an unbelievable scene.
| | |
| --- | --- |
| | |
| This is a scene from the Prince Golf Course a few months before Iniki. | This picture was taken at a slightly different angle from the one on the left about 20 minutes after the winds of Iniki had abated. Notice the total defoliation of the trees. There were almost no leaves left on the Garden Island. |
After a couple of detours caused by houses and other debris in the road, I turned onto our street, Keoniana. My heart sank when I saw that our house was almost completely destroyed. The garage and one wall were the only things still standing. The kids were wandering around in the incredible mess looking for their books and toys, while Sue was picking our clothing up out of the yard. "Iniki" had been rude to the entire island, but this was ridiculous. The main section of our roof had gone airborne and landed in a tree across the street over 100 yards away. Some of our windows were still in tact, hurricane tape and all, but they were half a block from the house. A lot of our stuff was salvageable, but the enormity of this wreckage made it difficult to know exactly where to begin. We were further frustrated by gawking tourists and their omnipresent video cameras stopping to record our pain. A condition was being born that Saturday that would come to be known as P.I.S.S. (Post Iniki Stress Syndrome).




This is the house before Iniki.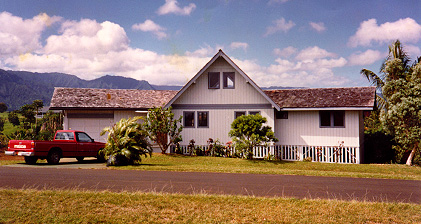 This is the same house after Iniki.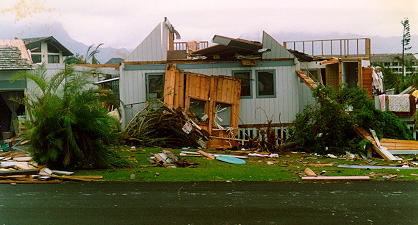 The island was now a series of disconnected neighborhoods, due to the lack of communications. Without phones and most of the roads blocked, it was difficult to know what was happening only a few miles away. We got together with the neighbors and set up impromptu food preparation areas. Anyone with a Coleman stove became very popular. There was no official information regarding casualties so we conducted our own unofficial headcounts. Remarkably, There were very few deaths or injuries. A steady stream Of military aircraft flew overhead for most of the day, and occasionally a civilian news helicopter would come in close for some good disaster footage. I wondered if Kauai looked as bad on television as it did in person. One Oahu radio announcer, with his voice quivering, said it might be a generation before the island could recover. This was a place in desparate need of some good news.
When we had made our escape the day before, we had left two cats behind. It was hard to imagine how anything could have survived in our house, but one cat, Fred was fine. By late afternoon we had not seen the other cat Hapa, and I doubted we ever would. However, our son Andrew said he heard meowing in the backyard. I went back and listened intently. After a few minutes I heard it too. We followed the faint sound to a large section of our roof that had landed in the yard. Our cat Hapa, was buried in a space about four inches wide between a shingle and the roof, still alive. Slowly and carefully, we dug her out and to our amazement she was completely unhurt. Now technically this may not qualify as a miracle, but our cats' surviving the roof falling on her was cause for celebration. We were all accounted for now including the pets. On this day of bad tidings, we had been due for some good cheer.
The scenery was so awful in the daylight that nightfall was more welcome than ever. Darkness was like a blanket over the destruction. One of our neighbors offered us her guest room that was still standing and had most of a roof. We gratefully accepted. Even though we were homeless and our lives had been turned upside down, we were alive and together. Taking stock of this situation would take quite a while, but one thing "Iniki" had given us was time. Work, school and most routines had been suspended indefinitely. After a very satisfying cold shower, I went to bed with my family around me in a quiet state of exhaustion. I badly needed rest and that night I would get it. Just before I passed out, somewhere in the twilight shadows, I could hear Johnny Winter singing one of my all time favorite songs:
"Every now and then I know its kind of hard to tell but I'm Still Alive and Well" .
This is a new photo gallery of the aftermath.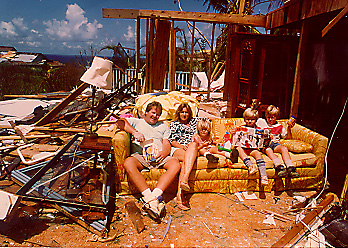 This photo was taken by Ted Lauder in our post "Iniki" living room. Outside of the lamp, this was not staged.
The eye of Iniki made landfall on the southwest coast of Kauai at about 3:15pm September 11, 1992.
The majority owners of the Princeville resort, Suntory Limited of Tokyo wrote a letter to the staff in December of 1992 wishing us all a speedy recovery and good fortune in 1993. When 1993 came however, Suntory apparently decided that jobs in Princeville were not necessary to the "speedy recovery." Princeville's ongoing financial difficulties were not helped by the hurricane, and many of the pre Iniki employees were abruptly terminated, myself included.
This internet site was originally published in 1994. It has always gotten a lot of traffic and response. In late 1998, I was contacted by a Television news group from Manchester in the United Kingdom. Their producers contacted me by phone and interviewed me at some length about Hurricane Iniki. They are producing a series on severe weather called The Eye of the Storm, and expressed an interest in Iniki. I later suspected they were not as interested in storm details as an excuse to go to Hawaii in February, which isn't a bad idea at all. At any rate, this program is allegedly being produced in February of 1999. If you see it or have any comments on it, drop me an e-mail.

I am still Alive and Well though, and still Alive and receiving e-mail.